Rosie
Celebrate the iconic American hero from the 1940s, symbolizing empowerment, breaking of barriers, and the potential of shared purpose. Includes "Goin' Home" from Dvorak's New World Symphony alongside original music.
Preshow - Gentle background music from the period slowly transitions over 1 minute, setting the stage for the opener
Part 1 - The metallic and mechanical sounds of the factory take us through the first portion of the show, with moments for each part of the ensemble
Part 2 - A calm transition builds to a beautiful climax using themes from Dvorak's New World Symphony
Part 3 - a victorious interpretation of the opening material brings this production full circle for a majestic finale
Difficulty: Intermediate Level
Originally commissioned by the East Noble High School Band. Robert Wilson, director.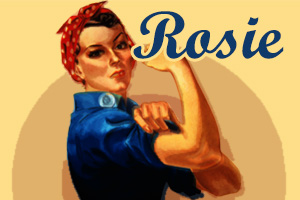 | Instrumentation | Price |
| --- | --- |
| Winds with percussion outline | $1,250 |
| Winds & Full Percussion | $2,000 |
Show package includes:
PDF files for full score and all parts
MP3 audio recording of the full show
Individual .wav files for any triggered sound effects or pre-shows
Minor instrumentation/orchestration adjustments (moving a solo to a different instrument, etc.)
Private password protected web page containing all files for digital download
Exclusive performance rights within your band's classification group at events you attend (ask about our Reservation Form for more details)
Performance permission for one full season (typically ending in November)
If you buy the winds score and plan on using your own percussion arranger, we can offer Finale/MusicXML files upon request