Jupiter Rising
This modern fantasia-like arrangement of Holst's "Jupiter", from The Planets, turns each major theme from that work into a separate movement. Features a wide range of musical styles and moods, with soloist opportunities.
Theme 1 - a contemporary rendition of the opening strains of Jupiter
Theme 2 - a lively jazz arrangement of the waltz-like theme
Theme 3 - a more straightforward arrangement of the well known Jupiter chorale
Finale - a fast-paced finale which combines previous themes into a rewarding culmination
Prime Series
Originally commissioned by the Northrop High School Band, Rachel Thorson, director.
This show does not include a full percussion arrangement, only a minimal outline written by the winds arranger as part of the original commission. If you are interested in commissioning a percussion arrangement customized for your ensemble, please contact us!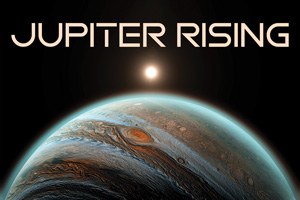 | Instrumentation | Price |
| --- | --- |
| Winds with percussion outline | $1,500 |
Show package includes:
PDF files for full score and all parts
MP3 audio recording of the full show
Individual .wav files for any triggered sound effects or pre-shows
Minor instrumentation/orchestration adjustments (moving a solo to a different instrument, etc.)
Private password protected web page containing all files for digital download
Exclusive performance rights within your band's classification group at events you attend (ask about our Reservation Form for more details)
Performance permission for one full season (typically ending in November)
If you buy the winds score and plan on using your own percussion arranger, we can offer Finale/MusicXML files upon request