Stone and Light
Combines original music with themes from Bach and Palestrina, evoking the creation of a cathedral over 3 distinct movements.
Iron and Stone - begins with a brass chorale performing Palestrina's Kyrie from Missa Papae Marcelli, followed by a massive climax, mixing excitement and gravitas. The energetic opener includes chant-like low brass melodies, woodwind and upper brass flourishes, and energetic punctuations from the full ensemble.
Light - an original piece based on the first phrase of a Bach chorale (commonly associated with the hymn "Break Forth O Beauteous Heavenly Light"), features a soprano sax solo, but could fit any woodwind.
Majesty - as all the disparate pieces of the cathedral come together, this movement features a long, dynamic build to the finale, featuring original music.
Difficulty: Intermediate Level
Originally commissioned by the Concordia High School Band, Fort Wayne, IN. Adam Friederich, director.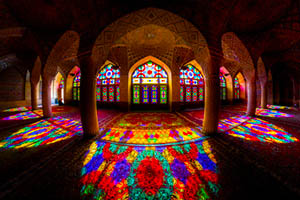 | Instrumentation | Price |
| --- | --- |
| Winds only | $1,250 |
| Winds & percussion | $2,000 |
Show package includes:
PDF files for full score and all parts
MP3 audio recording of the full show
Individual .wav files for any triggered sound effects or pre-shows
Minor instrumentation/orchestration adjustments (moving a solo to a different instrument, etc.)
Private password protected web page containing all files for digital download
Regional exclusivity based on your primary circuit and class, BOA/WGI exclusivity based on individual contests
Performance permission for one full season (typically ending in November)
If you buy the winds score and plan on using your own percussion arranger, we can offer Finale/MusicXML files upon request